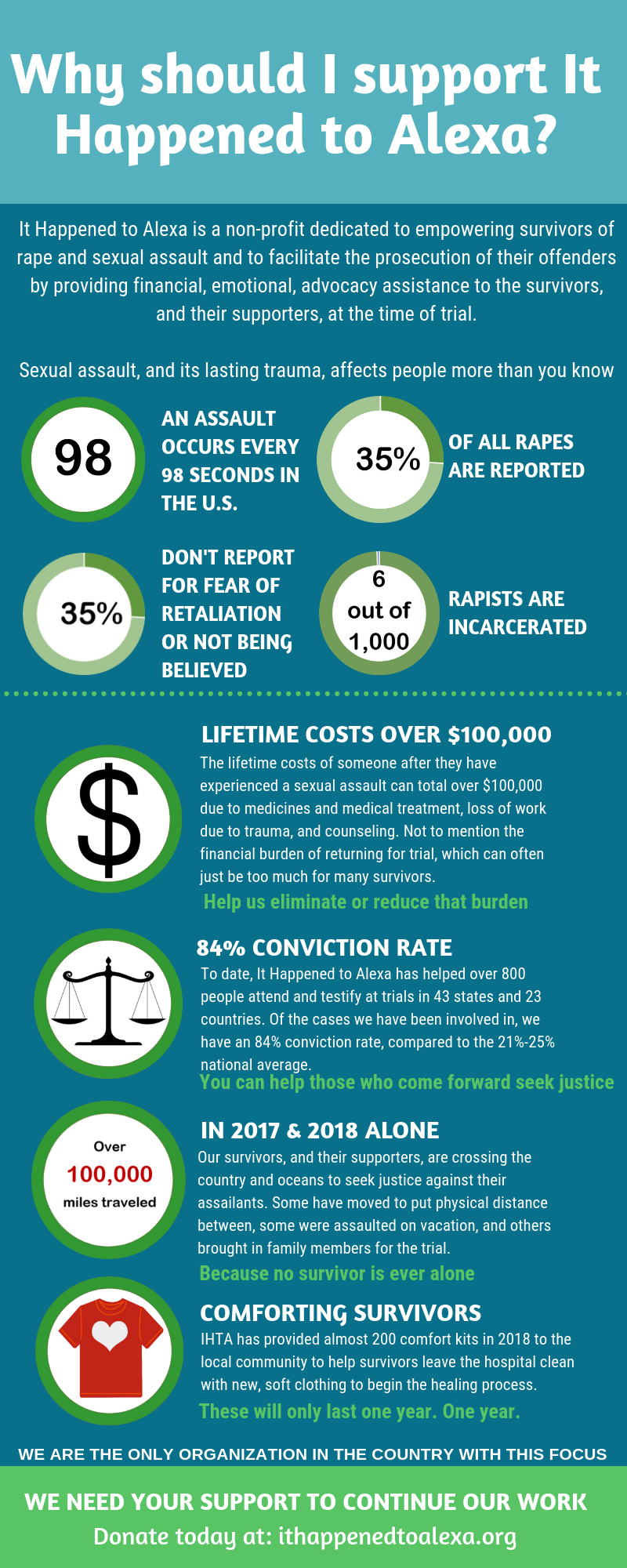 Our Impact!
Each year, the need for survivors and their support people to attend and testify at out of town trials grows. We anticipate larger numbers in the years to come as there has been a reported increase in the reporting of assaults across the country. This past year was no different.
In 2017 & 2018 (we combine years because some cases cross over the year between initial application and actual trial due to court delays):
Our survivors and supporters traveled over 100,000 miles to attend and testify at out of town trials
Total number of survivors/supporters helped:
28 survivors/31 supporters = 59 total
Total number of states: 16
Total number of counties: 19
Total number of countries: 4
Thailand
Nicaragua
India
Costa Rica
2017-2018 Conviction Rates:
2017 conviction rate*: 52.63%
2018 conviction rate*: 33.3%
2017-2018 conviction rate*: 46.428%
*: some cases are waiting for final conviction & sentencing
Notable sentences:
22 years
Life in prison for indecency with a child, sexual conduct
10-22 years with 5 years probation following
25 years imprisonment followed by lifetime probation
18 months FBI facility and 5 years probation
New Website!
In January, we launched our brand new, custom built website design and built by Firespring Foundation. This was part of the $10,000 grant we had received from them in March of 2017. This website has made it easier to use (for us and you!), with a better application process, and an easier way to engage and sign up for our events. This was a really exciting moment for us as we have been able to better share our services and reach greater numbers of people. Plus, it's just beautiful, don't you think?!
New Office!
After many months of waiting, our beautiful new office in Larkin was completed in June. This space is bright with a whole wall of windows that lead out to our very own balcony. The space is large enough that we plan to hold group sessions for community members beginning in spring of 2019. We have space for interns (more on them below) and for us an organization to grow as we expand our offerings. 
Great Interns!
We have been fortunate enough to have had some great interns this year! In the spring, we had Brynne and then Samantha over the summer. Both are from Niagara University and were so helpful during the transition period from the office in Lewiston to our Director's house to finally into Larkin. This fall, we welcomed two students from the University at Buffalo School of Social Work, Melinda and Emma. Both are working on new initiatives to help us better support survivors and their supporters. Feel free to stop by the office to meet this dynamic duo! So many thanks to all our interns!  
Events!
This year, we brought back a really fun event - the Great Contraption Race! We made some changes including moving it to Buffalo RiverWorks - but you really couldn't ask for a better venue! The first year experienced some challenges (including a broken ankle for the Executive Director and a scary fall at the launch site that ended in a ride in an ambulance to the hospital!) (Double YIKES!) but everyone was fine by the end of the day and ultimately, we are looking forward to an even better event next year!
We also hosted our Raising the Stakes Gala in September and what a great night that was! This fantasy casino night really hit the jackpot with great food, drinks, games, and prizes! 
We were also fortunate enough to have our Board Member, Mary L. Campbell, host a party for us at her house in Florida in March. It was a wonderful opportunity meet new friends and engage them on what we do.
In July, our friends Karen & Paul, held a party for us at their home on Martha's Vineyard. We meet new friends and talked with many continuing supporters as we watched a beautiful sunset. 
Parties like these give us the chance to speak directly with new, and continuing, supporters. If you would like to host a party for us, let us know at info@ithappenedtoalexa.org.
Great Grants!
In March, we were honored to receive $10,000 from the Million Dollar Round Table, a professional organization comprised of financial planners across the country. Their continued support went directly to helping survivors, and their supporters, attend trials. This grant helped us guarantee all travel for many of our survivors this year and was instrumental in achieving many of this year's convictions. 
In June, we were thrilled to be awarded the Garman Family Foundation Grant in conjunction with ECMC to purchase a highly specialized camera that takes better, more detailed photographs of injuries while allowing the nurses to maintain a distance from the survivor during the exam. This photographs can then be used for prosecution of their assailants. Funding also included for the development of materials for survivors to help assist in the recovery process. 
Testimonials from our survivors
From a survivor:
The point of me sharing all of this with you, is that I want you to KNOW that you made a HUGE difference for this little girl and that what you did to make it so I could attend the trial, HELPED her!! Not to even being to mention what it did for me to provide me with my own closure. On her behalf, I want to say thank you so much for helping me with my expenses to that I could be a support and help her! You are amazing for what you do!!
From a survivor:
Thank-you so much for the financial assistance to pay for my Dad's travel expenses. I am really glad I had my dad to support me. The closer I got (to trial city), the more anxiety I felt. It was reassuring to him sitting in the courtroom while I was on the stand. ..I never want to go through that experience again, but I am glad It Happened to Alexa was able to support us for this experience. I still managed to stay in positive spirits with a smile.
From a survivor:
Without the help of the Alexa Foundation, I would not have been able to find the closure that I needed by taking my case to trial. They supported me with travel arrangements and expenses so that I was able to testify. They always acted with kindness and confidentiality and were just the sort of people I needed during this difficult time. I cannot express how much it means to me that this organization exists to serve myself and others in need of assistance. Please consider donating to support those in need as they find their voice and continue their journey to healing.  ~ Katie Z.
Thank You!
Each and every year, we are humbled by the support shown to us by not only our local community, but our extended one as well. The differences we make in the lives of our survivors cannot be understated. As the only organization in the country that has this focus, there is no where else for many of these survivors to turn. And thankfully, with your help, we never say no. 
Looking forward to a very amazing 2019 with all of you!
Coming up in 2019!
We have a very exciting 2019 ahead including:
The launch of new initiatives aimed at helping family members, male survivors of sexual assault, and youth.
Comfort Kits will again be collected throughout and assembled at the end of April 2019. Last year, we assembled almost 200 kits, let's see if we can double it!
The Great Contraption Race & Basket Raffle will be held at Buffalo RiverWorks on Saturday, August 17th! Mark your calendars and get ready for a good time!
And much, much  more!